---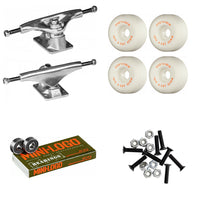 Deck & Griptape NOT included!
This set includes Trucks, Wheels, Bearings, and Hardware from Mini Logo for $110.

Trucks: Mini Logo

Our new Mini Logo™ high-performance trucks combine strength, stability, and smooth turning in a lightweight design with premium alloys, high-rebound bushings, and precision axles. Developed and tested at Skate One, the shape, materials, and finishes have been refined for MILITANT skaters right from the first turns and grinds -- No break-in time needed!


Wheels: Mini Logo
Click HERE to select the wheel that you'd like to ride and let us know your selection at checkout! 
We have Mini Logo wheels ranging from 51MM to 54MM available.
https://www.shopofskatan.com/collections/wheels/mini-logo?page=1

Mini Logo™ high rebound, long lasting formulas provide more performance at a fraction of the price of most "pro" wheels. A number of our team skaters have told us that they prefer the way this compound skates over many more costly wheels. Mini Logo™ combines this high-performance urethane with a simple graphic, and a popular range of shapes, sizes, and hardnesses. Great performance and value guaranteed!

Long-lasting, high-rebound pro-grade urethane
Decades of Skate One Corporation wheel pouring expertise
A-Cut shape featuring a sidecut profile and wider contact area for more stability skating all terrains
C-Cut shape designed with a slim profile to minimize weight for technical skating


Bearings: Mini Logo

Now with MORE...

STRENGTH - 2 rubber shields deflect even more harmful debris
SPEED - faster than previous generation Mini Logo bearings
EASE - even quicker and easier to clean & service
VALUE - the best value in skateboard bearings just got better

Hardware: Mini Logo
 
1"Black

Send us a quick message if you need any more information!