---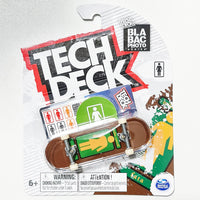 Real boards. Real graphics. Real stunts. Pull off epic tricks with Tech Deck's authentic fingerboards! From nose to tail, Tech Deck fingerboards are engineered to replicate the feel of a real skateboard. Each fingerboard features graphics from the biggest skate companies in the world. 

With so many to collect, you never know which one you'll get! Find them all and build out a collection worthy of a legit fingerboard fanatic! Each board comes with unique accessories, like decal sheets – ideal for creating a custom board. You could also add a board stand, extra grip tape, trucks, wheels or skate tools to your collection. Just like a pro fingerboarder, use the tool to fix up your board, then hit the rails and perfect your kickflip, ollie and shuvit. For real skate graphics from real skate companies, collect the deck!
Features

Tech Deck brings you the real deal with authentic fingerboards from real skate companies!
Each fingerboard comes with various accessories, like a skate tool, extra trucks, extra wheels, griptape sheet, or stickers. You never know what you'll add to your collection!
Tech Deck fingerboards are for skate-lovers ages 6 and up. Collect them all and become a pro fingerboarder!
Tech Deck Size: 96mm
Condition: Brand New In Box