---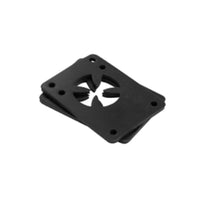 Independent - Genuine Parts 1/8" 3MM Black Shock Pads
Designed to minimize vibrations and absorb more of the initial impact so your knees last longer.
Q: What's the difference between Riser Pads and Shock Pads?
A: Riser pads are designed to increase the height of your board in order to avoid wheel bite, and shock pads are designed to absorb shock to make for a smoother ride.