---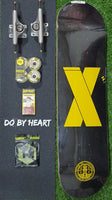 A Complete DBH Skateboard for $159:

⚡Deck
⚡Griptape (3 Options Available)
⚡Trucks
⚡Wheels
⚡Bearings
⚡Hardware

Q: Can I change swap any parts?
A: No!
Q: Will all the parts be assembled?
A: You can choose if you want it assembled or not.

Brand: Do By Heart
Quality: All Parts Are Professional Grade
Condition: Brand New
Deck: 7-Ply Canadian Maple
Size: 8.0" X 31.5"
Concave: Medium
Griptape: High-Quality Perforated
Trucks: Hollow Kingpin
Trucks Hanger Width: 5.25"
Trucks Axle Width: 7.875"
Trucks: Suitable for Decks 7.75" - 8.25"
Wheels Diameter: 52mm
Wheels Width: 32.5mm
Wheels Hardness: 100a
Bearings Rating: Skate Rated
Hardware: 1"